Diesel Semi Truck and Trailer Repair
Reliable. Comprehensive. Affordable.
Family owned and operated by Floyd Dachel for nearly 24 years, Bloomer Truck Repair & Warehousing provides diesel repair, truck maintenance, engine rebuilds, transmission service, and more. Floyd and his team of knowledgeable mechanics have a reputation for honest, quality work. They have the experience and equipment needed to get you back on the road as quickly as possible.
Contact Us Today
24 Hour Roadside Service
Broke down? Let us bring our repair services to you. We will likely be able to diagnose your issue over-the-phone, grab any parts we may need from our inventory, and then repair your truck right there on the roadside. Of course, some situations do require a tow to our shop, but many repairs can be made on-site. We also have a 24 hour wrecker service available.
Contact Us For Service
Offering mobile diesel repair services within 100 miles of our facility in Bloomer
Serving Eau Claire, Chippewa Falls, Menomonie, Rice Lake, Osseo, Thorp, Abbotsford, Ladysmith, Hayward, Minong, Neillsville, Marshfield, Barron, Turtle Lake.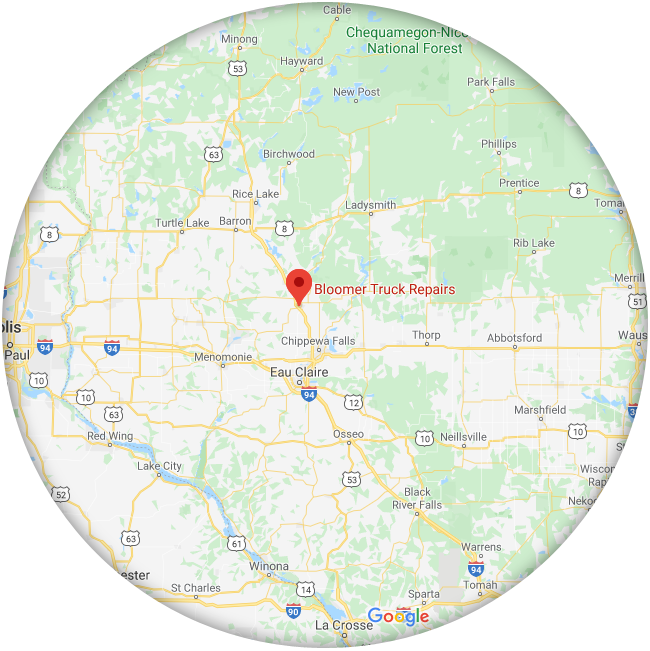 Full-Service Maintenance Facility
You'll find us conveniently located half a mile off Highway 53 and Highway 40 in Bloomer, Wisconsin. We have all of the right equipment and machinery to get the job done right and fast. Our goal is to get you back on the road as quickly as possible.
Air Conditioning (compressors, condensers, repairs, hoses, and more)
Belts (fan belt, serpentine belt, and more)
Brakes (ABS, chambers, shoes, drums, valves, wheel bearings, wheel seals)
Cooling Systems (water pumps, radiators, fans, and more)
Drive Train (clutch, differential, driveline, transmission)
Electronics (diagnostic, engine controls, and more)
Electrical (batteries, starters, alternators, and more)
Filters (oil filters, fuel filters, air filters, cabin filters, and more)
Hoses (air lines, hydraulic hoses, A/C hoses, and more)
Suspension (shocks, air bags, springs, ABS controls)
Trailers (ABS, brakes, drums, valves, wheel bearings, wheel seals, air lines, landing gear, floors, roof leaks, light repair)
Tires (repairs and replacements)
Cold Weather Service (winter freeze-ups, filter replacements, air dryers, starting issues, batteries, frozen brakes)
Full-service engine repair and diagnostics
We offer repairs and overhauls of most makes and models of diesel engines.
Complete diagnostics
Complete engine rebuilds
Tuning and calibrations
New engine installations
Engine repair and much more!
We provide emergency roadside service for heavy-duty trucks as well as full-service repair at our maintenance facility. From complete in-chassis overhauls to driveline service, our heavy-duty technicians are experienced with all makes and models.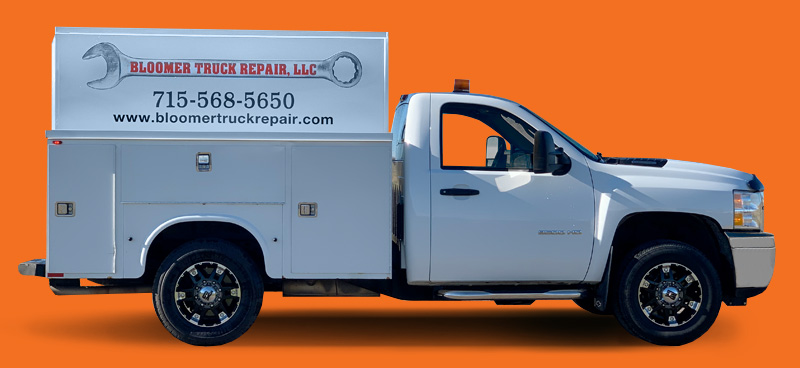 Trucks We Service
Semi Tractors
Dump Trucks
Silage Trucks
Manure Trucks
Milk Trucks
School Buses
Logging Trucks
Municipal Trucks
RVs/Motor Homes
Trailers We Service
Hopper
Van
Reefer
Flat Bed
Equipment
Dump
Pup Trailers